Farm Equipment and Highway Safety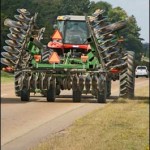 Sharing the Road with Farm Equipment
This time of year is a busy time for farmers. Making hay, hauling manure, chopping silage, harvesting corn, and planting cover crops are just a few of the activities that are completed this time of year and they all involve slow moving equipment. Most farm vehicles travel less than 25 miles per hour, so as a driver, slow down and keep your distance. Don't assume that a farm vehicle pulling to the side of the road is going to let you pass, they may be turning instead. The most common farm vehicle accident happens when farm equipment makes a left turn after the driver behind it begins to pass. Make sure the equipment driver sees you before you try to pass. The most important thing drivers can do is to just be patient. Most farm equipment do not travel long distances on the highway so slow down and keep your distance so both you and the farmer can reach your destination safely. Farmers can do their part to make the roadways safe also. Make sure that farm vehicles have clean and visible slow moving vehicle emblems. Replace any emblems that are faded or worn. Always turn on your flashing lights when traveling on the road and allow for extra time and distance when crossing or pulling onto highways. If possible, don't drive slow moving equipment on the road when visibility is restricted by bad weather or in the dim hours near dawn or dusk.
NC secures ag transportation improvements
Changes in North Carolina transportation law SB749, will make many farmers' lives easier during critical production and harvest times. The bill overhauls NC transportation law in three important ways for farmers:
Expands the list of agricultural commodities that may be hauled in an unregistered trailer that is being pulled by a properly licensed motor vehicle by a farm/farmer for farm and farming purposes. Livestock, live poultry, animal waste, pesticides and seeds have been added to the list of commodities. The exemption does not include for-hire basis hauling.
Provides a process for farmers to drive oversized equipment on NCDOT controlled access highways. A divided highway building boom in North Carolina has split many farms and created significant hardships for farmers during critical production and harvest weeks when they were forced to trailer/haul farm equipment or create hazardous delays by driving on narrow local/secondary roads.
Expands weight tolerances for agriculture and forestry products on state highways being hauled within 150 miles of the farm.