When Is the Best Time to Use Weed and Feed Fertilizers?
Find this article at:
go.ncsu.edu/readext?280780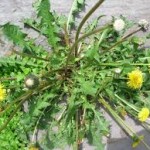 After the recent warm weather, I am beginning to see signs of life in my yard. I am also starting to get calls from homeowners with questions about weed and feed fertilizers, and when is the best time to apply them to the lawn. The answer depends upon the type of weed and feed fertilizer you get.
Fertilizers that contain weed killers are divided into pre-emergent and post-emergent. Pre-emergent herbicides, as the name suggests, prevent weed seeds from germinating. With pre-emergent weed killers, it is critical that the material be applied prior to weed seed germination.
Now (early spring) is the time to apply the weed and feed if you are trying to control many summer weeds. The exception would be if you were trying to control crabgrass. Crabgrass preventer should be applied in mid-April, which is too late to include a fertilizer application on cool season lawns.
Most of the weed and feed fertilizers you see in the stores now contain a post-emergent weed killer. In order for these post-emergent herbicides to work, the weed must be actively growing at the time of application. So, if you apply a post-emergent weed and feed now, you will only kill weeds that are up at this time and it will have no effect on weeds coming up later.
By the time summer weeds are up in the lawn, it will be too late to apply a weed and feed since fertilizer applications are not recommended in summer on cool season lawns. Post-emergent weed and feeds can also damage established ornamentals if they are applied under the wrong conditions, such as temperatures above 90 degrees F.
Both pre and postemergent weed and feeds may damage newly seeded lawns. There may also be other restrictions on when and how to apply these materials. Read the label carefully when purchasing any product containing weed killers or any pesticides.