How Do You Choose the Tomato Plant for You?
Find this article at:
go.ncsu.edu/readext?295381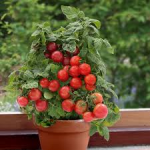 Some of the local master gardeners requested that I do an article on growing tomatoes. On the surface, it sounds like an easy chore since tomatoes are a favorite in local gardens. However if you look at the seed catalogs with so many varieties available, just picking a variety can be a chore.
The first two large groups of tomatoes can be divided into determinate and indeterminate. Determinate varieties are also called bush tomatoes, and bear their tomatoes over a couple of weeks and then die. Indeterminate varieties, or vine tomatoes, grow and bear fruit throughout the season and are eventually killed by frosts.
Other categories of tomatoes include heirloom and hybrid cultivars. Heirlooms like Cherokee Purple and Mortgage Lifter are regaining their popularity because of their unique flavors that may have been lost in newer cultivars. Hybrid varieties are genetic crosses between two different varieties and are developed for disease resistance or some other special feature.
The problem with many heirloom varieties is that they do not have much disease resistance. Last year was particularly bad for tomatoes because of early and late blight. While many hybrids do have disease resistance, the seeds cannot be saved and planted the next year because they will not be true to type.
Other categories of tomatoes are based upon color, size and shape. Along with the standard reds, you also have purple, yellow, white, orange, green, pink, and yellow. As far as the size is concerned, you have the beefsteak, cherry, grape, and plums – just to name a few. Tomatoes range in shapes from large strawberries, called oxhearts, to egg shaped romas.
Ultimately the choice of a tomato variety is a matter of taste. If you are a tomato lover, you have quite a few choices and picking a favorite may not be easy, so you may want to plant a variety of tomatoes.