New Tax Laws for Farmers
Find this article at:
go.ncsu.edu/readext?306031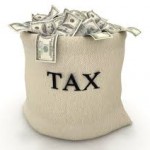 Effective July 1, 2014, North Carolina House Bill 1050 provides that farmers, in order to purchase farm inputs exempt from sales tax, must have $10,000 of gross farm income from the preceding tax year in order to qualify for the exemption or $10,000 of gross farm income as an average of the preceding three (3) taxable years. This is a change from previous years that required a $1,000 gross farm income.
NC House Bill 1050 does allow for a Conditional Exemption. The conditional exemption is useful to beginning farmers who have no history of farm production. To receive a conditional exemption, the beginning farmer must certify they intend to engage in farming. The conditional exemption certificate is valid for the taxable year in which it is issued and the two subsequent years. The holder of the conditional certificate must provide the NC Department of Revenue copies of applicable State and Federal income tax returns within 90 days of the end of each tax year the certificate covers. Misuse of the Exemption Certificate is subject to a $250 fine.
This income threshold is not to be confused with the $1,000 of agricultural product produced as an average, over 3 years, for property tax purposes to qualify for Present Use Value program.
HB 1050 provides that qualifying farmers who have an agricultural exemption certificate number issued prior to July 1, 2014 should apply for a new agricultural exemption certificate before July 1, 2014. The notice can be found at http://www.dornc.com/taxes/sales/impnotice062514_2.pdf
Applications were also created in order for an applicant to apply for an exemption certificate number for qualified purchases.
Form E-595QF, Application for Qualifying Farmer Exemption Certificate Number for Qualified Purchases can be found athttp://www.dornc.com/downloads/e595qf.pdf
Form E-595CF, Application for Conditional Farmer Exemption Certificate Number for Qualified Purchases can be found athttp://www.dornc.com/downloads/e595cf.pdf
Holders of agricultural exemption certificate numbers issued prior to July 1, 2014, may continue to use these certificate numbers on qualifying purchases made prior to October 1, 2014. If, however, the exemption certificate is not valid, the holder must notify vendors and pay sales tax on any qualifying purchases. Bottom line, farmers will need new agricultural exemption certificate numbers. If you have any questions or need assistance please call the office at 336-651-7348