What's Next for Vegetable Gardeners?
Find this article at:
go.ncsu.edu/readext?313124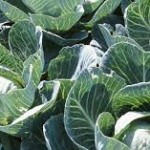 Hopefully you have gotten in your fall vegetable garden by now if you planned to plant one. Now is the time to turn your attention to other gardening chores around the home. Numerous late summer chores need to be taken care of now before fall arrives.
Many people choose not to plant a fall vegetable garden for various reasons. If you want to help improve the garden for next year, consider planting a cover crop. Plants like annual and winter rye help control weeds, control soil erosion and improve soil tilth when plowed under in the spring. Legumes like Austrian winter pea, crimson clover and hairy vetch will also add nitrogen to the soil.
If you have planted a fall vegetable garden and used seeds then you will probably have more plants than you need. Thinning out plants to their proper distance will reduce disease pressure, improve yields, and reduce physiological problems like bolting. The distance between plants will depend on the crop. For instance cabbages should be spaced 12 inches between plants while carrots can be as close as 2 inches.
We have had disease problems on area lawns that have produced areas with no grass. Now is the time to reseed cool season lawns in order to get establishment before winter rolls around. Make sure the seed makes good contact with the soil by raking out dead turf and weeds. A high phosphorus fertilizer should also be put down and the seeds should be watered on a regular basis.
Later summer and fall is also a good time to plant trees and shrubs. There are three important factors in determining what to plant and where to put it. I will be discussing these factors at Midtown Garden Market this Saturday beginning at 9:30 a.m. when I talk about "Putting the Right Plant in the Right Space".