How Important Is the Bull in Your Breeding Program?
Find this article at:
go.ncsu.edu/readext?317423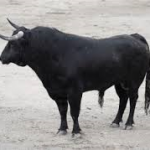 As most producers have started their fall calving season, it is not too early to start preparing for the breeding season which is just around the corner. The importance of the bull in a cattle breeding program often is underestimated. A cow is responsible for half the genetic material in only one calf each year, while the bull is responsible for half the genetic material in 20 to 50 calves. The bull's ability to locate cows in estrus and breed them is clearly vital to a successful breeding program. In the past, when a cow failed to become pregnant it was assumed that she was at fault. Occasionally, that is true. However, a clear understanding of the male reproductive system and the differences between reproductive capabilities of bulls indicates that the cow is not always at fault.
One of the cheapest insurance policies that a cattle producer can purchase is to have a yearly Breeding Soundness Exam (BSE) performed with their Bulls. BSEs should be completed each year at least three months before breeding season. This leaves time to recheck questionable bulls and locate replacements if necessary. Breeding soundness evaluation is a useful tool for screening out low fertility.
A breeding soundness evaluation is administered by a licensed veterinarian and includes a physical examination (feet, legs, eyes, teeth, flesh cover, scrotal size and shape), an internal and external examination of the reproductive tract, and semen evaluation for sperm cell motility and normality. A breeding soundness evaluation does not evaluate a bull's libido or actual mating ability, nor does it ensure that a bull will remain a satisfactory potential breeder the entire breeding season.
After bulls are evaluated they are then graded as satisfactory, unsatisfactory or deferred. A classification of unsatisfactory does not mean a bull is completely sterile but is considered sub-fertile and should not be used for breeding. A sub-fertile bull eventually may get cows pregnant, but he will take longer than a fertile bull to settle a group of cows. The result is that subfertile bulls produce fewer calves as well as calves that are born late in the calving season, which are therefore younger and lighter at weaning. Bulls that receive the deferred classification have some irregularities in their ejaculate and a second collection is required to determine his fertility.
Results from a national survey indicate that fewer than 30% of cattlemen routinely subject their bulls to a BSE exam. With cattle prices at record levels and most BSE exams only costing $50-$100 one can see that BSE exams are very cost effective risk management. Do not let the unthinkable disaster happen in your herd. An infertile bull can devastate not just one breeding season, but several subsequent breeding seasons.
FAMACHA Training
If you would like to learn more about integrated parasite management for goats and become FAMACHA certified there will be a management workshop on Saturday November 8, 2014 at Wilkes County Farm Bureau Building in North Wilkesboro. Preregistration is required in order to know how many FAMACHA cards to order. The cost is $25.00 per individual or family which will include one FAMACHA card. Registration deadline is October 8th. Space is limited to first 40 registrants. You may pre register by mailing a check to the Wilkes County Cattlemen's Association at 201 Curtis Bridge Road, Wilkesboro NC 28697. If you have any questions please call 336-651-7348.
Texas Extension
LSU Extension
South Dakota Cooperative Extension
Beef Today