The Benefits of Having a Controlled Calving Season
Find this article at:
go.ncsu.edu/readext?318898
Choosing the right calving season is important because it affects production and associated costs and returns. Calving season decisions should consider cattle nutrient demand, nutrient supply from forage and feed, seasonal effects on fertility, seasonal effects on calf performance, and seasonal markets and profit potential. There is no one-size-fits-all calving season for all beef operations in terms of length or time of year. Each producer must make an informed decision on which calving season works best for the operation.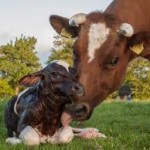 Controlled Calving Season
First things first. A calving season can and should be defined and controlled by the producer. A controlled calving season starts with a controlled breeding season. A controlled breeding season does not mean having twelve 30-day breeding seasons each year or four 90-day breeding seasons each year. Instead, it means that the bull is going to have to be put up away from the cows at some point in time. The key to implementing a controlled breeding and calving season is to be diligent about putting bulls up on schedule.
Implementation of a controlled breeding and calving season can be accomplished over time without sacrificing production and offers several advantages over a year-round (uncontrolled) breeding and calving season. A controlled calving season allows matching nutritional needs of the herd to forage resources, facilitates more intense monitoring of breeding and calving, facilitates working (vaccinating, castrating, growth implanting) more calves of a similar age at once, and produces calves of uniform age at sale time that can be sold in groups to capture group sale premiums. With a controlled breeding season, bulls are allowed time to rest and regain body condition that might have been lost during the breeding season. Not having bulls running with the cow herd year-round also reduces the risk of injury to bulls. An appropriate length to the calving season should consider impacts on reproductive performance, first and foremost, and then the advantages of having calves within a tight age range.
One argument often heard for not moving to a controlled breeding and calving season is that with calves of different ages scattered throughout the year, income can be spread throughout the year. This is the notion of using a year-round calf crop as a checking/savings account. However, the advantages of a controlled breeding and calving season outlined above can actually lead to higher annual revenue and profit in a cow-calf operation. In addition, with planned and disciplined budgeting, revenues from calf sales using a controlled breeding and calving season can be made available in months in which calves are not marketed.
Some producers opt to use two defined calving seasons. This provides the option to roll non-pregnant, breeding females to the opposite calving season without having to miss an entire production cycle. It also allows a reduction in the size of the bull battery needed to settle the herd. Bulls can be used in both seasons, but nutritional programs must be designed to maintain good bull condition going into each breeding season. If more than one calving season is used, there is an opportunity to compare the effects of changes in markets and weather on production and profitability at a single location. This comparison may identify a preferable calving season for the specific conditions of the farm. With two calving seasons, management and resource demands for each season should be evaluated along with the advantages described previously to determine if using two calving seasons is preferable to using one season.
Ultimately, decisions on when to calve should be based on site-specific conditions affecting production, costs, and returns. What works in another region of the country or even another area of the state may not work for your operation. By keeping good production and financial records and assessing forage resources, herd fertility, calf performance, and marketing options, a suitable calving season can be found for the farm. For more information on calving seasons or related topics, contact the Wilkes County Extension office.