Will the Frigid Weather Harm Your Outdoor Plants?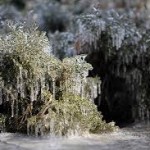 This week, we are experiencing the coldest weather of the winter with temperatures dropping to around zero degrees. Most outdoor plants will tolerate freezing conditions, even the single digit temperatures we are seeing now. However, single digit and negative degree temperatures are likely to have caused significant damage to certain trees and shrubs.
The affect of these low temperatures may not be immediately evident. Often times damage will not be noticed until the plants start to grow in the spring of the year. The type of damage will vary depending upon the type of plant.
Buds on fruit trees can be damaged at zero degree temperatures. Peaches, plums and nectarines, in particular, may have fruit buds that are killed. However, it is very unlikely that the current freezing conditions will kill all of the fruit buds.
Some plants may be killed by severe freezes. Many fig trees were killed to ground level during similar freeze conditions last year. Freeze damaged figs will regrow from the rootstock; so do not give up on the plant.
Right now there is nothing that can be done to reverse the damage caused by freezing conditions. Once the plants start to grow in the spring, then some maintenance may be needed.
Pruning out damaged limbs will help the plant deal with the freeze injuries and prevent diseases from further damaging the plant. Applying a fresh mulch layer and lightly fertilizing the plant in the spring of the year will also reduce stress on injured plants.
Was the information on this page helpful?
This page can also be accessed from:
go.ncsu.edu/readext?341301