It's Time Again for That Juicy Goodness!
Find this article at:
go.ncsu.edu/readext?367163
The residents of Wilkes County are fortunate to have a wide array of crops being grown in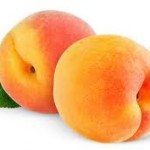 the area. Along with the standard fruits and vegetables, we also have newer crops being grown like raspberries and blueberries. Peaches and nectarines have been grown in the area for decades, and now is the time to enjoy these tree-ripened fruits.
Peach and nectarine harvest usually starts in early July and runs through August. Local fruit is allowed to ripen more on the tree which is one of the advantages to buying local peaches instead of fruit shipped in from the west coast. The longer the fruit stays on the tree before it is picked, the more intense the flavor.
Residents are also fortunate that they have a wide selection of peaches and nectarines from which to choose. Varieties that most people are familiar with are the yellow-fleshed fruits that have the familiar tart flavor most people remember eating when they were growing up.
Other varieties that are becoming more popular are the white-fleshed peaches and nectarines. Georgia Belle used to be the standard, but this white-fleshed fruit has a very short shelf life. The newer varieties not only have superior flavor, they also have a longer shelf life than Georgia Belle.
White-fleshed peaches are low acid fruit which means they don't have the tartness of a yellow-fleshed peach. White fleshed peaches and nectarines can also be eaten when they are still firm for those people who like a crispness in their fruit. White Lady and Snow Giant are two white-fleshed peaches to look for.
Peento or donut peaches are some of the more distinctive fruit grown locally. Fruit of these varieties are flat, and when the pit is punched out of the middle, it looks like a donut. Other fruit just starting to be harvested include Asian pears and apples. Contact the Wilkes Extension office at 336 651-7330 if you want to find local tree fruits.