Expecting Twins? Here's Some Tips on Caring for Them…Calves That Is
Find this article at:
go.ncsu.edu/readext?373937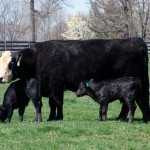 As most producers have starting calving heifers and older cows starting next month, twin births occur in 1 to 7 percent of cattle depending on breed and genetics. Though fairly rare, it helps to prepare for the possibility of twin births prior to calving season.
Most beef producers say breeding for twins is just asking for trouble. Many times, a cow with twins will reject one of the calves and leave the other as an orphan. In addition, cows that give birth to twins are pulled down and will rebreed later than the other cows in the herd.
Gestation length of twins is from 1 to 2 weeks shorter than for single calves, so if a cow became pregnant with twins early in the breeding season she will likely be one of the first to calve. Sometimes this happens unexpectedly ahead of your target calving dates
The USDA Meat Animal Research Center in Clay Center, Nebraska has been managing a twinning herd for the past 24 years. Researchers have found that as long as there is good nutrition, there is only a 10% difference between the weights of twin calves and single calves when weaned. The twins can, in most cases, almost double the income from a single cow. Certain breeds, such as Simmental, Charolais, and Holstein, and also large heifers are more likely to produce twins. On the downside, cows that deliver twins have twice as many problems as cows that only deliver a single calf. Cows that deliver twins also have a much larger feed requirement. The research herd has about a 50-60% rate of twins within the herd of 250 cows but it only has an 80% herd calving rate. With the high twin rate, the herd still manages a 120% calf crop.
Cows can be placed in stalls with the twins for the first 24 hours after birth to increase bonding. Many times if a calf is rejected, the producer will switch that calf to a cow that has lost her calf. The cow can be encouraged to accept the orphan as her own by rubbing the scent of the cow's dead calf on the orphaned twin calf and then putting the two in a pen so the calf can nurse.
Researchers say that there is a good deal of interest in twinning from producers who have 100 or fewer cows. Smaller herds allow producers to observe cows closer and provide more assistance if cows should have trouble giving birth. When the herd is much larger, close observation and added assistance usually requires too much labor and is not worth the trouble to producers.
In case you should encounter twins within your own herd, here are some tips for how to deal with them:
Be there to help the cow deliver.

Keep the cow and twins in a small pen for at least 24 hours to encourage bonding.

Give the twins extra colostrum to be sure that both of them get off to a good start

Wean the twins around 6 months of age or sooner depending on available nutrition.

Feed the cow well in her last trimester of pregnancy and while she is nursing the twins.

Do not save a twin heifer as a replacement if she is born with a bull brother. She will probably be sterile (a freemartin).
NCSU Cooperative Extension