Time to Think About Some Fall Outdoor Chores
Find this article at:
go.ncsu.edu/readext?373825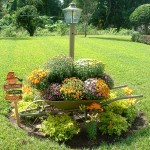 Pretty soon, many gardeners will be putting away the garden tools for the winter. Plants will be going dormant and gardening life will slow to a crawl during winter months. Despite the reduced activity, fall is an ideal time to take care of certain chores in the landscape and get the plants ready for next spring.
For example, now is a great time to take soil samples to determine what the plants will need next year. If you want to get your samples analyzed free, you will want to send your samples off in the next couple of months. The North Carolina Department of Agriculture charges a $4 fee per sample from the end of November through the end of March. Any other time of year, the service is free. The Wilkes Cooperative Extension Service has the sample boxes and forms.
Adding manures to the garden now will allow the material to breakdown before planting in the spring. Both compost and manures should be tilled in to promote quicker breakdown. Tilling also has the added advantage of exposing insect pests to cold temperatures.
Some trees are beginning to drop their leaves early, and I have been getting calls from concerned residents. Early defoliation can be caused by a variety of factors, but the most common cause is some type of leaf disease. In most instances, early leaf drop should not do any damage to deciduous trees and shrubs, so no treatment is recommended.
Debris with disease and insect problems can be a source for infestations next year. Removing plant debris, like infected leaves and dead vegetable plants, is recommended at this time and can reduce potential problems for next year.
It is still not too late to try and seal the house up to prevent insect invasions. Stinkbugs and lady beetles are already showing up at local residences. Try to screen off or seal up as many entry points as possible to keep the bugs from getting into the house.