What Is the Best Way to Store Apples?
Find this article at:
go.ncsu.edu/readext?381315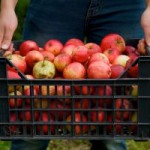 Apple harvest time takes place in late summer through late fall in North Carolina. Some varieties will only be around for a very short period of time while others will be available well into next year if stored properly. It is important to know which varieties do well in storage.
Varieties like Honey Crisp and Gala usually lose fruit quality within a couple of weeks after harvest even if stored under ideal conditions. Stayman and Arkansas Black are two heirloom varieties that can last up to 5 months if stored properly. Pink Lady and Fuji are newer varieties that also store well and and high quality fruit can still be available into April or May.
Look for any damaged or bruising of fruit prior to storing. Apples with these defects will break down quickly and begin to rot which can spread to other apples. Apples that are damaged during storage should also be removed
Another key to storing apples is to make sure they are placed in an environment that stays cool and with relatively high humidity. People most often think of refrigerators when storing apples, and it can be an ideal place. The best temperature for apple storage is around 32 degrees F; however, temperatures below 28 will damage the fruit and cause the apple to ripen more quickly when brought to room temperature.
Apples require a relative humidity of 90 to 95% to keep from shriveling. Store small quantities of apples in a plastic bag that has some holes in it before placing them in the refrigerator to make sure high humidity is maintained. Larger quantities can be stored in cellars and basements as long as the humidity is high and the room is not subject to freezing.