Interesting Facts About the North Carolina Christmas Tree Industry
Find this article at:
go.ncsu.edu/readext?386704
With Christmas just a few days away, I thought it important to give credit to the Christmas Tree industry in North Carolina and provide some interesting facts you may not know.
North Carolina has an estimated 50 million Fraser fir Christmas trees growing on over 25,000 acres.
Ashe, Avery, Alleghany, Watauga, and Jackson counties produce 88% of North Carolina's Christmas trees.
The North Carolina Christmas Tree Industry is ranked second in the nation in number of trees harvested
North Carolina produces over 19% of the Real Christmas Trees in the U.S.
Fraser fir represents over 96% of all species grown in North Carolina and is shipped into every state in the U.S. as well as the Caribbean Islands, Mexico, Canada, Bermuda, Japan and other points all over the world.
There are approximately 350 million Christmas trees growing on 170,000 acres of land in the United States.
Christmas trees are grown and harvested in all 50 states.
8 million live Christmas trees were purchased in the United States in 2012, with a real market value of $1.07 billion.
84% of the Christmas trees purchased were pre-cut, and 16% were cut-your-own.
An estimated 175,000 real Christmas trees are sold via e-commerce or catalogue and shipped mail order.
To ensure enough trees for harvest, growers plant one to three seedlings for every tree harvested
More than 2,000 trees are usually planted per acre. On average 1,000-1,500 of these trees will survive.
It takes six to ten years of fighting heavy rain, wind, hail and drought to get a mature tree.
Most Christmas trees are cut weeks before they get to a retail outlet. It is important to keep them watered thoroughly when they reach your home. In the first week, a Christmas tree in your home will consume as much as one gallon of water per day.
Most artificial Christmas trees are made from PVC plastic. PVC trees are fire-retardant but not fire-resistant. Eighty percent of artificial trees worldwide are manufactured in China.
5 million artificial trees were purchased in the United States in 2012.
Christmas trees can remove dust and pollen from the air.
The top five states for Christmas trees, in order, are Oregon, North Carolina, Michigan, Pennsylvania and Wisconsin.
North Carolina produced 4.3 million trees in 2012 (the most recent Census of Agriculture), up 39 percent from 2007's production of 3.1 million trees
North Carolina is No. 2 in the nation for both Christmas tree and poinsettia production.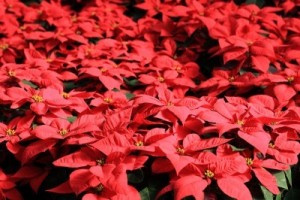 Oregon produces more Christmas trees and only California produces more poinsettia plants.
North Carolina's potted poinsettia sales were $17 million in 2013, down slightly from $17.6 million in 2012.
Courtesy of the Carolina Population Center at the University of North Carolina at Chapel Hill: