Why Not Try Edible Landscaping?
Find this article at:
go.ncsu.edu/readext?390425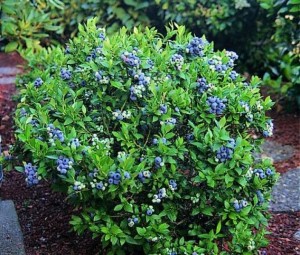 We are approaching the time when people begin to think about what they are going to plant in the coming year. Thoughts turn to trees, shrubs and other plants that would make the landscape more attractive. Another option, however, is to plant something that will not only add beauty to the landscape but also produce food for the table.
Blueberries are plants that generally require very little attention. They have very few pests so they do not have to be sprayed often. Different blueberry varieties ripen at different times and homeowners can have an extended harvest over the course of the summer. One additional benefit is that some blueberry varieties have nice fall colors.
Blueberries normally require two different varieties to insure good pollination. They also come in three different "types". Rabbiteye and some southern highbush varieties tend to tolerate our heavy soils pretty well. Northern highbush can be grown in the area but they may require more attention. No matter what type blueberry you choose, make sure the soil pH is around five in order to get adequate growth.
Fruit trees are another addition to the landscape that can add beauty during bloom and food during the summer and fall. Many fruit trees, however, need a great deal of attention throughout the year in order to get edible fruit. Apples and peaches, in particular, need to be sprayed on a regular basis to prevent pests from damaging the fruit.
Some fruit trees require less attention and may be more ideally suited for those people who do not have the time to tend to them. Asian pears have very few pest problems and produce a beautiful bloom in the spring of the year. Asian pear fruit are round like an apple and have a subtle flavor. There is a disease that can kill Asian pears called fire blight, but selecting a fire blight resistant variety can minimize this problem.
There are many other options for edible landscaping including oriental persimmons, paw paws, asparagus, blackberries and herbs. Each plant has its advantages and disadvantages, and its own requirements for good growth. Do a little research before putting these in the landscape to make sure they are adapted to the site and will perform as expected.