There Is Such a Thing as Too Much Bull!
Find this article at:
go.ncsu.edu/readext?394229
Everyone in the beef industry agrees that maintaining a 60-to-75 day breeding and calving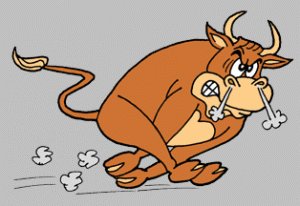 season can be one of the most important management tools for producers. With uniformity in age and size, the calf crop is more valuable. However, many producers lose this advantage just because they do not have a pen or pasture that will house bulls nine to ten months of the year.
There are many options to aid producers in dealing with this issue. First, selling bulls after the breeding season is one option. Bulls marketed on the weekly markets have been bringing $90 to $110/cwt depending on flesh. If the bull is maintained for another year, the winter feed bill alone could cost around $500. If the bull is sold after the breeding season, the total dollars profited would be about $1600 to $1850 with consideration of the expense of maintaining the bull another season. This money could be used to invest in a replacement bull next spring that would be of "better genetic" potential than the "old bull". While this is not a common practice most cow-calf producers use, producers should consider the benefits of this option compared to keeping the bull around for another year.
A second option for producers is "shared ownership". Many producers co-own bulls and have slightly different breeding seasons. For example, farmer B is a fall calver. He needs the bull to be with cows from December through February. Farmer A is a spring calver. He needs the bull from June through August. This practice allows the bull to stay busy and out of trouble for most of the year. A good cow health protocol is necessary for both herds.
Bull leasing may be an attractive option. Leasing allows a producer to use bulls that have a higher dollar value (and superior genetics in many cases) than the producer might be willing to pay if buying bulls. There are many different types of leasing arrangements available. When considering leasing as an option, compare the costs and returns from leasing a bull versus buying a bull. It is also important to outline the responsibilities of all lease participants in enough detail to answer any questions that might arise if the bull gets sick, dies or is determined to be an unsatisfactory breeder. If any expenses are to be shared, then the contribution of each party should be decided up front. Responsibility for unexpected expenses should also be determined at the time the lease is signed. Deciding these questions ahead of time protects both the owner of the bull and the producer leasing the bull. Leased bulls are usually only kept during the breeding season so bull maintenance costs are not incurred beyond the time the bull is kept.
Finally, another good argument for shorter breeding seasons and selling/leasing bulls is disease transmission. There are several reproductive diseases that can be spread by mature bulls. Though some reproductive diseases are adequately prevented by vaccination of the cowherd, there are others that are much more difficult to prevent. One of these diseases is "trichomoniasis" or "trich." Older bulls are much more likely to carry the organism than younger bulls. When bulls transmit trichomoniasis to the herd, cows frequently abort. It is not uncommon to see 30-40% calf crops in trichomoniasis infected herds. Utilizing younger bulls will also reduce the risk of cow injuries. Mature bulls have been known to break the backs of cows in slippery conditions. Fortunately, good bull management and rotation largely prevents the occurrence of disease and injury while advancing genetic improvement.
NCSU Extension