Wouldn't You Love to Have a Juicy, Home-Grown Tomato Right Now?
Posted On

February 11, 2016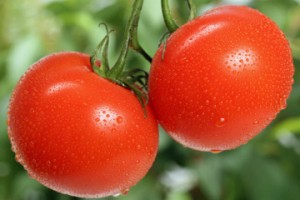 The time is quickly approaching when it will be time to start vegetable transplants for the home garden. If you get seed catalogs the number of choices can be overwhelming, particularly for tomato varieties. There are a couple of factors to keep in mind when choosing the variety that is right for you.
Tomatoes can be divided into two groups depending on their growth habits. Determinate varieties are also called bush tomatoes and bear their tomatoes over a couple of weeks and then die. Indeterminate varieties, or vine tomatoes, grow and bear fruit throughout the season and are eventually killed by frosts.
Other categories of tomatoes include heirloom and hybrid cultivars. Heirlooms like Cherokee Purple and Mortgage Lifter are regaining popularity because of unique flavors that may have been lost in newer cultivars. Hybrid varieties are genetic crosses between two different varieties and are mainly developed for disease resistance or some other special feature.
The problem with many heirloom varieties is they do not have much disease resistance. While many hybrids do have disease resistance, the seeds cannot be saved and planted the next year because they will not be true to type. Hybrid varieties will often have F1 or F2 next to their name in seed catalogs.
Other categories of tomatoes are based upon color, size and shape. Along with the standard reds, you also have purple, yellow, white, orange, green and pink. As far as the size is concerned you have the beefsteak, cherry, grape and plums – just to name a few. Tomatoes range in shape from large strawberries, called oxhearts, to egg-shaped romas.
If you are still confused about which tomato seeds to order, you might want to talk with someone with gardening experience. Some varieties do better in our climate while others take much more effort to get to grow and produce