Help Your Cattle Beat the Heat!
Find this article at:
go.ncsu.edu/readext?417058
Hot weather is a fact of life in North Carolina. Those of us lucky to call the Old North State home have to deal with pinkeye, pigweed, and a chance of thunderstorms every single day. We also have to deal with upper 90's and high humidity for a bulk of the summer. For those of us in the cattle business, this presents its own set of problems. Let's take a minute to look at a few issues that we must manage around in this heat.
Water requirements for cattle go up significantly when temperatures get into the 90's.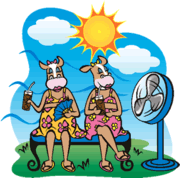 This is not exactly groundbreaking research. Sometimes we, as managers, can overlook factors such as water source availability and volume of water present when all your cows decide they are thirsty at the same time. A 1,300 pound cow can easily drink 25 gallons of water on a hot day. So, for a herd of 50 cows, this adds up to 1,250 gallons of water per day. Take a minute and think about how much water that actually is. Now, look at how and where your cattle are watering from. It is not uncommon for people to have a 150 gallon water trough as their main water system. That tank will need to fill up 9 times per day to meet the needs of your cows. If you've ever stood and waited for a 150 gallons of water to flow into a trough through a float, it takes a while. Having a big enough trough or maybe even two troughs can help cattle meet their daily water requirements without standing around for an hour waiting to get a drink.
One thing that we often fail to think about is that an animal needs to someway get out of the sun during the heat of the day. During our daytime highs, some type of shade is critical towards helping your cattle stay comfortable.
Most cattle producers rely on trees for shade in a majority of their pastures. Trees work really well but you need to take a moment and assess what type of trees you have and how well they filter the sun. Pine trees, a very common tree we see around our pastures, are pretty lousy at this. A thick enough stand of pines will do a decent job, but a few here and there offer almost no shade coverage. Hardwoods are much better and even undesirable hedgerow shrubs like Privet Hedge can offer some shade if big and thick enough. One downside to really good hardwood trees in a pasture is that cattle have a bad habit of killing them over time. The mud and inevitable eroding of top soil off the root system does not do a tree any favors and will often lead to the tree becoming weak and dying.
Shelters of course are ideal for lounging areas for cattle. Either metal roofs (if over 7' tall) or even filter cloth roofs offer excellent shade coverage. Cloth roofs can be used during the hot months then removed and stored over the winter.
The biggest single factor to avoid when looking at heat stress is handling/working your cattle in the middle of summer. Some handling is inevitable of course. Fly treatments have to be made, calves have to be weaned and many cattle farms put their calves through some type of pre-conditioning program that will require deworming and vaccinations. So, while we often must get some cattle through the chute during the summertime, it is critical that you be smart and plan this out.
The first rule of thumb is start early and end early. As quick as you can get going in the morning, the cooler it will be plus the humidity will not have started to increase. Once temperatures have started to reach their peak by early afternoon, you need to either be finished or just quit for the day and go again tomorrow. This will be much easier on both you and your cattle.
Second, watch the weather forecast. If you have some flexibility on when you can work your cattle, see if you can get lucky and catch a day or two that is a little cooler. Even a few degrees can make a big difference when it comes time to work your cattle.
Finally, realize that if it's hot and miserable to you, it will be the same for your cows. Cattle that are hot and uncomfortable will handle like it. The same group of cows that work great in the winter will not act the same on a 90 degree day when they have been crowded up for three hours. Make sure you have enough help lined up, take some water breaks and try to find some extra patience when working your cows in the summertime.