Have You Thought About Growing Your Own Apples?
It will not be long before the summer vegetable gardens start to fizzle out and fresh local fruits and vegetables will be harder to find. Local apples are usually abundant in the fall since that is when they ripen. If you are thinking about growing your own apples there are a couple of factors you should consider before planting.
Apples need at least two different varieties to insure proper pollination. You need to make sure the different varieties bloom at approximately the same time to maximize good pollination. If you order your trees online, most companies will have charts that show which varieties are most compatible.
Another factor to consider is what size tree do you want to eventually end up with?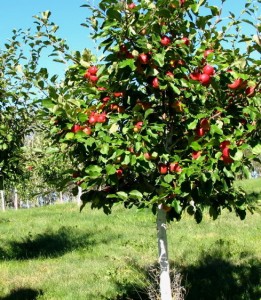 Mature apple trees can range in size from dwarf trees that are 10 to 12 feet tall to full size trees that can get up to 30 feet tall. The size of the tree is dictated by the rootstock the variety is grafted on to and, if you order trees, there can be a number of rootstocks to choose from. Nurseries should be able to tell you which rootstock will give you the tree you want.
Probably the most important factor to think about is the variety. Again, you have a large number of varieties to choose from that include heirloom, standard, and new varieties. Not all varieties are adapted to our area. For example, McIntosh is a popular apple in northern states, but the variety may not do well here because of our hot summers.
There are other factors to consider as well, including resistance to diseases and when the varieties ripen. Doing a little research will help you determine the apple variety that is best suited for your growing area.
If you want to skip the hassle of growing your own apples, then you are in luck since our local apple harvest is underway. Early varieties like Gala and Ginger Gold are available now. Honeycrisp, a local favorite, should be ready for harvest in a couple of weeks
Was the information on this page helpful?
This page can also be accessed from:
go.ncsu.edu/readext?421330