Oh Boy! About Time for Those Stink Bugs Again!
It will not be long now before we start getting calls on different bugs getting into the house and becoming a nuisance. Although the majority of insects that get inside will not harm anything, they can cause concern by the homeowner. These pests include lady beetles, boxelder bugs, and brown marmorated stink bugs.
Brown marmorated stink bugs have been causing problems in Wilkes County for the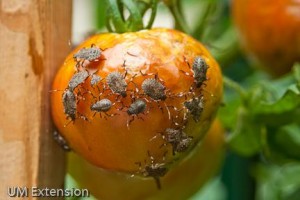 last couple of years. These bugs are not only a nuisance, they can damage area crops like peaches, apples, and vegetables.
As the days get shorter in the fall all of these bugs will be looking for some shelter from the cold. A researcher at NC State has found that the stinkbugs start looking for shelter in mid September, long before the cold weather arrives.
Now is the time to start preparing for potential infestations, before the bugs arrive. Try to seal as many cracks and crevices as possible and replace any torn or damaged screens. I have found that stinkbugs have been getting in through bathroom and kitchen vents so screening these should reduce the invasion.
Some people want to spray an insecticide to control these pests but, while most insecticides are effective in killing them, we do not recommend spraying inside the house. Repeated applications on the outside of the house will be needed since most insecticides break down rapidly or are washed off when it rains.
If you find these bugs inside your house it is best to vacuum them up and dispose of them. Do not crush stink bugs as they will give off an offensive odor and can stain fabrics.
Was the information on this page helpful?
This page can also be accessed from:
go.ncsu.edu/readext?424975