Do You Have Roaches? Ugh!!
Find this article at:
go.ncsu.edu/readext?428719
Most bugs I find in the house do not bother me. I normally just scoop them up and throw them back outside. However, cockroaches are another matter; and I cannot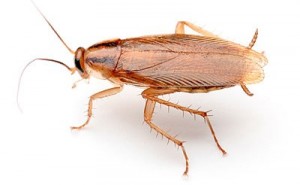 stand the thought of having even one cockroach in the house.
Cockroaches are extremely messy eaters because they defecate while they eat. This means that their feces can be found almost everywhere they travel. Also, there is some evidence that roaches may carry disease organisms like salmonella.
A number of different types of cockroaches exist, including the American, wood, and brown banded roaches. The most common cockroach found in local homes is the German cockroach. Roaches are active at night and will scurry away when a light is turned on. If you see one cockroach, there is a good chance that many more are in hiding.
The main way to deal with roaches is to deny them access to your home. Roaches can hide in the flaps of paper grocery bags, so it is advisable not to store these bags in the house. One other way that roaches can get into the home is in cardboard boxes, particularly those boxes that once held food. Inspect boxes closely and, again, do not store them in the home if possible.
A number of insecticides are recommended for cockroach control. The trick to effectively controlling roaches is to place the insecticide in those warm, moist, and dark areas where roaches like to live. Cabinets below the sink and behind the refrigerator are ideal spots to place baits. If the infestation is severe, then hiring a pest control operator may be well worth the money.