If Your Hemlocks Look Like This, You Have Problems
Find this article at:
go.ncsu.edu/readext?439338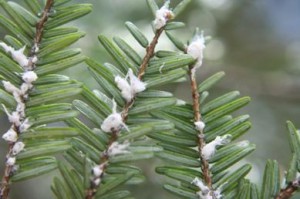 The hemlock woolly adelgid is still a very serious pest of hemlocks in our area. Although researchers are desperately trying to find ways to control this insect, we are still losing large numbers of trees each year. According to Dr. Jill Sidebottom, with NC State University, homeowners have a couple of options when trying to save their hemlocks.
First, determine if the hemlock is worth saving. Already heavily infested trees may not survive, even if the tree is treated. If you have numerous hemlocks in the landscape, you will want to pick and choose which trees to treat and which trees to cut down. Leaving untreated hemlocks in the area will be a source for more adelgids later.
Pesticide treatment options will depend on the size of the tree. For smaller trees, or trees that can be completely covered by a sprayer, homeowners can use insecticidal soaps or insecticides containing a pyrethroid or imidacloprid. Insecticidal soaps should be applied in the fall of the year, while the other insecticides may be applied at any time
Soil drenches are available for those larger hemlocks that cannot be reached by a sprayer. Imidacloprid is one the insecticides used in soil drenches and can readily be purchased by homeowners. Imidacloprid is sold under several different trade names, so make sure to check the active ingredient statement. Remember to follow the directions on the label when using any insecticide.
Trees can also be directly injected with the same insecticide used for the soil drench. It is usually best to leave tree injecting up to the professionals and there are people in the area that have experience with this method.
If the pesticide treatments are properly applied, then control of hemlock woolly adelgids should last for a couple of years. Exceptions do occur, so it is advisable to monitor trees on a regular basis.