Greens – Southern Comfort + Health Benefit
Turnips, mustard, and collard greens…sounds like a dish at grandma's house. At least it does for some. In The South, greens are long associated with comfort food and the warmth of family. What may not always come to mind are the multiple varieties of leafy greens and their rich health benefits.
Fall and winter is the growing season for many greens such as kale, swiss chard, collards, turnip greens, and spinach. Be sure to take advantage of these nutrient-dense foods while they are fresh and in season.
Dark Leafy Greens are full of vitamins, minerals, fiber, and antioxidants. These are an especially strong source of vitamins A and C as well as low in fat and cholesterol free. Spinach, kale, collard, and turnip greens are a source of calcium as well.
Purchasing and Preparing
When purchasing leafy greens look for those that are a rich dark green, crisp, and full. If the leaves are yellowish or wilted they are no longer at their peak of freshness. Fresh greens should always be washed before use. Submerge in a bowl of cool water and gently swish around to remove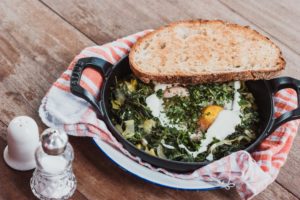 any dirt. Remove from the bowl and rinse out the bowl. Repeat this process until the greens are completely clean. After washing shake off as much water as possible or wrap in towels to avoid wilt if the product will not be used immediately.
Smoothies and salads are a popular way to eat greens. When choosing items for a salad try those on the milder side, such as spinach or swiss chard. Cooked greens are at their best when only cooked long enough to wilt the leaves. The best flavor will be produced when the color is vibrant and the leaves are softened. Overcooking the leaves to a green-grey color will cause a loss of nutritional value.
This winter show some love to the dark leafy greens, experiment with recipes to find something that works for you!
Quick Kale Dish
Ingredients
1 bunch flat-leaf kale – ribs trimmed away and discarded, leaves cut into 2-inch pieces
Salt to taste, or another spice of choice
1 T olive oil
Instructions
Arrange kale pieces on microwave-safe plates so they do not overlap.
Drizzle olive oil over the kale pieces; season.
Cook each plateful of kale in the microwave until crispy, usually 2-2 ½ minutes per batch.
Recipe from NC 10% Campaign