N.C. Cooperative Extension Administrative Professional Association — Herter O'Neal Scholarship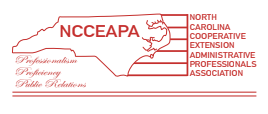 The Herter-O'Neal Scholarship is awarded each year to honor the work and dedication of Edith Herter and Frances O'Neal, founding members of the North Carolina Cooperative Extension Administrative Professionals Association (NCCEAPA). NCCEAPA membership is comprised of North Carolina Cooperative Extension administrative assistants in 100 counties, the Eastern Band of Cherokee Indians, NC State University, and N.C. A&T State University.
This scholarship is offered to anyone pursuing a college degree (Associate or Bachelor's) in business or a business-related field of study with the exception of current members or those eligible to become members of the NCCEAPA.
Applicants must be a legal resident of North Carolina. The privacy of applicants will be protected. Scholarship amount: $750. Funds are paid directly to the school and not to the individual. Effective 2008 – scholarship is open statewide.
If you are interested in applying, please download, print and complete the application. All applications need to be turned into me by March 21, 2019.