2019 Hay Bale Decorating Contest- Registration
Hello everyone, we wanted to go ahead and post the link for the 2019 Hay Bale Decorating Contest for the Wilkes County Agricultural Fair. We hope to have the fair catalogs out in the next couple of weeks for everyone. Please click on the link below to register for the hay bale contest. You can register until September 2, 2019, for this contest but please don't wait. This year's fair theme is "Country Pride, County Wide."
Rules and Regulations: 
Open to any non-profit group, club, or youth organization in Wilkes County.
Groups must pre-register by Monday, September 2, 2019, to reserve your hay bale.
Bales should be designed to reflect the 2019 Wilkes Ag Fair theme:
        "Country Pride, County Wide"
Completed hay bales should have signage with a theme.
EXAMPLE: Country Pride, County Wide. Hay bales not reflecting the 2019 theme will be disqualified.
The Wilkes Agricultural Fair will provide a round bale for each participating group to decorate, you may bring up to 4 additional small bales to use in the exhibit.
Hay bales will be placed throughout the fairgrounds and midway, first come basis.
Bales may be decorated between 2–5 p.m. Sunday, Sept. 8, and 9 a.m.–noon on Monday, September 9. Entries will be judged at noon on Monday, September 9, 2019. Hay-bale decorations are required to remain up the entire length of the fair. Bales taken down before Saturday, September 14, 2019, will forfeit their premium.
Bales should be decorated with a good clean wholesome nature. No vulgar or suggestive decorations will be allowed – this includes people rolled up inside a bale with feet or head sticking out.
Bales can be placed lying on their side, this is your choice. Please specify position of bale on entry form. If you will be providing a maximum of 4 additional square bales, please list on entry form.
Decorations must be weather and wind-proof.
Paint may NOT be applied to the hay bale or grass.
NO commercial or Political party signs of any kind are allowed. After judging, signs will be placed to identify the organizations that designed the hay bales.
All premium checks must be written to the organization.
Hay bales will be separated and judged by youth division and adult division.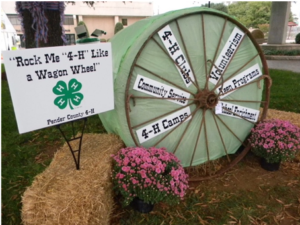 Premiums:
1st Place: $100.00, 2nd Place: $75, 3rd Place: $50,
4th Place: $25, 5th Place:  $15