Is Creep Feeding Calves Cost Effective?
Find this article at:
go.ncsu.edu/readext?396063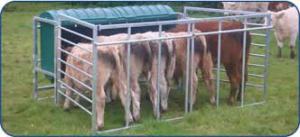 Creep feeding is a means of providing supplemental nutrients to nursing calves, usually in the form of grain, protein supplements, commercial calf creeps or high quality forages. Calves are usually allowed access through a gate large enough to allow calves to enter but small enough to restrict access by cows. Creeps vary from grains to "creep grazing" high quality forages to limit-fed protein supplements.
Analysis of whether or not to creep feed is a complex issue. Several factors which need consideration before making the decision to creep feed include:
Calf prices and the effects of added calf weight and condition (fleshiness) on calf sale prices.
Feed prices.
Forage availability and forage quality.
Conversion efficiencies of creep feeds to added weaning weight.
Availability of labor.
Plans for retained ownership.
Length of time calves will be creep fed.
What is economical on one farm may not be economical on another. Producers should carefully evaluate the objectives of the individual operation before deciding whether or not to creep feed. Likewise, what is economical in one year may not be economical in another. However, this is a year that proper creep management should allow for a nice return if things stay near the current ranges.
Advantages of Creep Feeding
Weaning weights are increased. Producers can expect 30 to 60 pounds of added gain with creep feeding. It usually takes 8 to 12 pounds of grain to produce one pound of added gain. However, feed conversions (pounds of creep per pound of added gain) can range from 5:1 to 30:1 with grain based creep feeds.
Calves which have been creep fed usually suffer less setback at weaning and tend to adapt to feedlot rations quicker than calves which have not been creep fed.
Milk is an important source of nutrients for the nursing calf. Herds with low milk production or high numbers of first-calf heifers or aged cows may benefit the most from creep feeding.
A common misconception is that creep feeding will reduce nursing pressure on the cow. However, research data from Oklahoma and Nebraska indicate that milk intake by creep and non-creep fed calves is similar. Calves prefer milk first, highly palatable creep second, and forage third. When milk and forage are available, creep feed becomes a substitute for forage. This may be advantageous only when forage supplies need to be stretched.
In general, creep feeding should be provided for at least the last 60-days before weaning. Place the creep feeder in an area which will be frequented by the cow herd. Locating the feeder near watering areas or areas where cows normally loaf will ensure that calves are exposed to the feeder. When starting to creep, limit the amount placed in feeder and monitor it frequently. Calves generally will not leave their mothers even for the most palatable creep feed. Providing salt and minerals for the cows in the same location can also help attract the herd to the area.
The moon and stars have aligned to present an opportunity this year to capture some added value. Contact your county extension office and/or nutritionist to obtain additional information on creep feeding your calves this winter/spring and take advantage of this opportunity.